STATIONERY
I am delighted to launch a lovely NEW collection of stationery in my prints.
If like me you have a love of all things stationery then look no further…
Our beautiful handmade products, all lovingly made in England, are the ultimate fix in luxury stationary indulgence. Combining some of our fabric designs with accessories this is the perfect way to complete the look in your interior.
Enjoy!
Zoe
x
KEEPSAKE BOX PAPER LEAF LARGE
KEEPSAKE BOX PAPER LEAF LARGE
PRODUCT: KEEPSAKE BOX LARGE
DESIGN: PAPER LEAF
COLOUR: BLACK & WHITE WITH PINK RIBBON TAB AND BLACK LINING
BLACK & WHITE WITH TEAL RIBBON TAB AND GOLD LINING
PRICE: £26 EACH
SIZE: (External) H 34.5 x W 24.5 x D 7.5cm
Features:
Magnetic closure & ribbon tab.
Made from 90% recycled materials.
Handmade for you in Britain
This beautifully crafted keepsake box is an design statement for your home. In our funky Paper Leaf print with contrast coloured ribbon tab we love the blend of monochrome and colour accents. This design motif began life as a one of my hand cut paper designs which I then lino carved for hand printing my complete design.
You might like to use your keepsake box to disguise your admin letters/bits and bobs or perhaps as a jewellry/memoabilia box. If you're an interiors enthusiast you might like to make yours make a place to store interior design project bits and bobs - design notes, magazine tears, swatches and samples.
Part of Zoe's Paper Leaf printed stationery collection.
UK Mainland postage charges:
1-2 boxes = £4.95
3-5 boxes = £9.50
6+ boxes = £14.50
All design rights reserved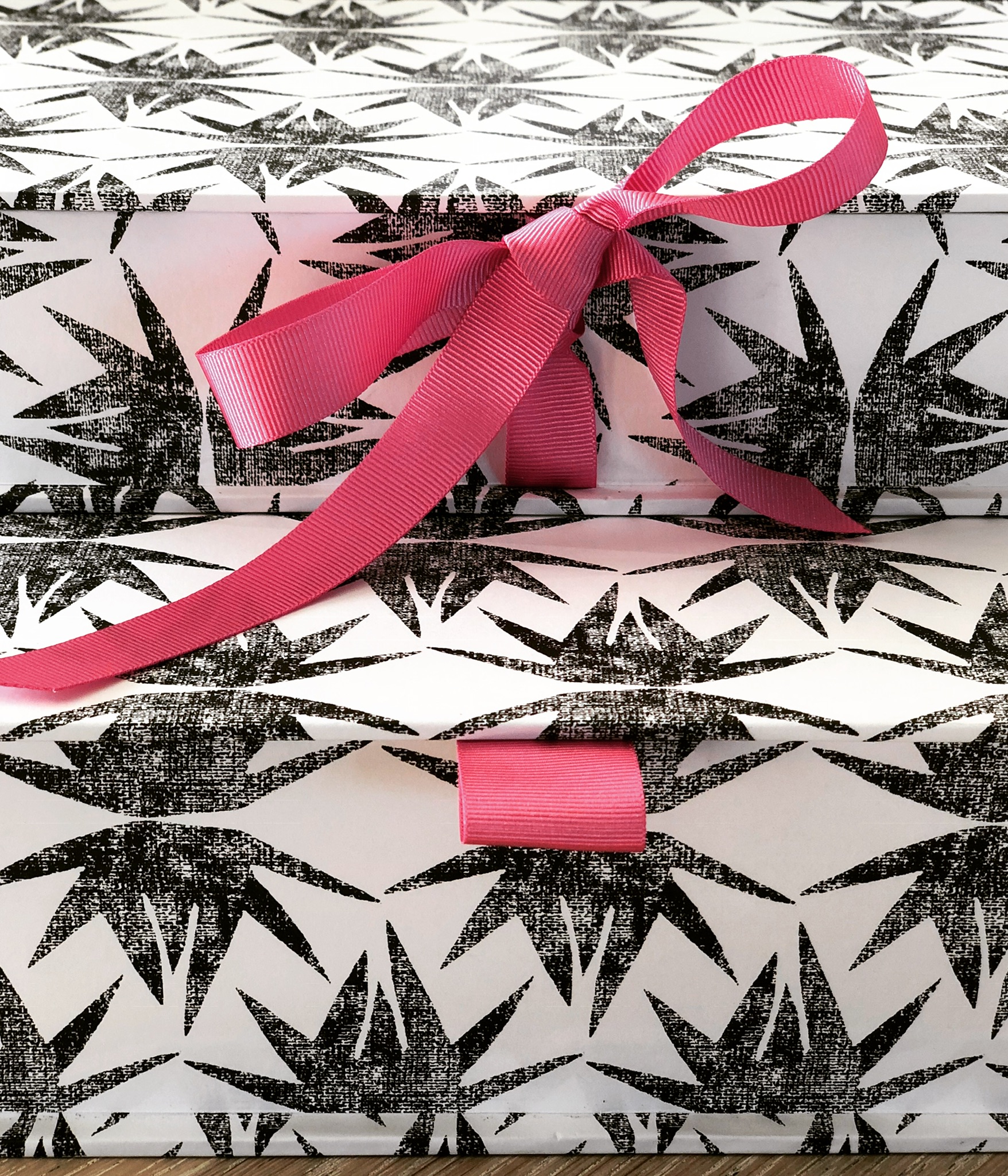 You Might Also Like